Regular servicing according to manufacturer's recommendation, prolongs the life of your vehicle, and helps you plan maintenance before it becomes a necessity.
Cameron Autotech Ltd maintain and service all makes and models of car and commercial vehicles, carrying out annual and interim services as per makers specifications.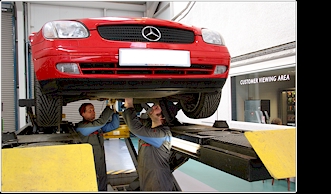 Included in our service, vehicles have emissions, suspension and brakes checked using state of the art newly installed computerized equipment. Any defects found are reported to the customer for rectification approval.
A current and accurate record is kept of your vehicle's service/repair and MOT history.
MOT & SERVICE REMINDERS AVAILABLE ON REQUEST.
All parts guaranteed for 1 year
All repairs guaranteed for 6 months (unless otherwise agreed).
Servicing within the vehicle's warranty period - with changes in European legislation, it is possible to have your car serviced at an independent garage without invalidating your manufacturer's warranty.
Four wheel alignment equipment including camber/castor adjustment.
QUOTATIONS AVAILABLE FOR ANY OR ALL WORK REQUIRED.
Fleet servicing - Approval by many companies, including 1Link.
Diagnosis and repair on systems such as:
Clutch and drive train.
Steering including power assisted steering systems.
Suspension including Citroen full hydraulic systems.
Brake systems - air, hydraulic and electronic.
HGV computerised brake analysis.
Administration and trading standards are audited regularly by MVRA (Membership No. 12176)